Contact us
: 0086-371-86151627 0086-371-86151827
: 0086-371-86011881
: Taya bebon

Products
Boiler steel Chinese supplier
Boiler steel Chinese supplier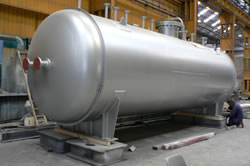 Boiler steel plate can be used primarily in the fabrication of boilers in industries such as shipbuilding, petrochemical and manufacturing.
Our boiler steel come in a variety of grades and thickness and are produced to a very high quality, designed to withstand the internal pressure in boilers and valves. Boiler steel plate is very popular due to its diversity of use and longevity.
Boiler steel plate specifications:
•ASTM A516 Grade 60
•ASTM A516 Grade 65
•ASME SA516 Grade 60
•ASME SA516 Grade 65
•BS EN 10028 P265GH
•BS 1501-161-430B
•DIN 17155 HII
BEBON is an exporter including boiler steel .we can send good service for all of our customers all the world!We are specializing in producing many kinds of products like boiler steel,welcome to contact me for the details.