Contact us
: 0086-371-86151627 0086-371-86151827
: 0086-371-86011881
: Taya bebon

Products
P460N/P460NH steel , P460N/P460NH steel supplier
P460N/P460NH steel , P460N/P460NH steel supplier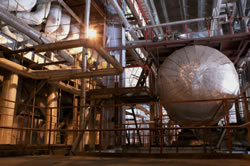 Pressure vessel steel plate P460N and P460NH under European standard EN10028_3 shall be made of steels for pressure purposes . P460N steel plate is under the room temperature quality,and P460NH is under the elevated temperature quality . Comparison with other lower yield strength in tradehis standard,such as P355N and P355NH,these two steel grade have more alloy elements , such as Cu,Cr,V.More carbon contains improved its tensile strength in steel properity.
P460NH steel , so called for having a minimum yield strength of 460 MPa, it is a high quality pressure vessel steel grade for use in boiler and pressure vessel fabrication. It is a normalised fine grain steel with good weldability characteristics.
Other grade types include...
P460NL1 – is ideal for use in low temperatures
P460NL2 – is ideal for use in especially low temperatures
Chemical element composition is % by mass.


Element
P460NH
P460NL1
P460NL2
Element
P460NH
P460NL1
P460NL2
Carbon (C)
max.
0.20
0.20
0.20
Silicon (Si)
max.
0.60
0.60
0.60
Manganese (Mn)
1.10 to 1.70
1.10 to 1.70
1.10 to 1.70
Phosphorous (P)
max.
0.025
0.025
0.020
Sulphur (S)
max.
0.015
0.015
0.010
Chromium (Cr)
min.
0.30
0.30
0.30
Molybdenum (Mo)
max.
0.10
0.10
0.10
Nickel (Ni)
max.
0.80
0.80
0.80
Niobium (Nb)
max.
0.05
0.05
0.05
Titanium (Ti)
max.
0.03
0.03
0.03
Vanadium (V)
max.
0.20
0.20
0.20
Nitrogen (N)
max.
0.025
0.025
0.025
Aluminium (Al)
max.
0.020
0.020
0.020
Copper (Cu)
max.
0.70
0.70
0.70